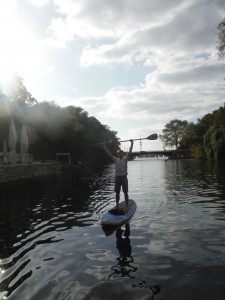 Yoga and Surfing – this goes to together for many ambitious water athletes. But Yoga on the board? Yes, this is called Stand Up Paddling Yoga, short: SUP Yoga.  Inspired by my friends and yoga teachers from Bora Bora and Hawaii I brought this trend back from my world trip in 2014.
SUP Yoga has many positive effects:
to practice on the water calms down mind and body, you can inhalee fresh air and get new energy
the slightly unstabile ground is Taklung your body with new impulsed and is training balance, coordination and core strength
it is just a lot of fun!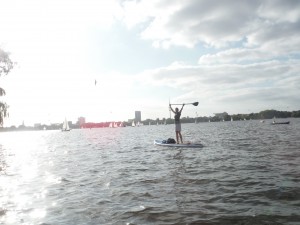 I offer SUP Yoga as Personal Training. As I call two boards my own, we are absolutely independent from rental stations and their opening times. Hamburg offers beautiful training spots with the alster, its river system and the canals. A bit of paddling is also part of the Yoga class. As the class will be fitted to your goals we can agree individually on setting, targets and sequencing the class. Normally a class consists of paddling, pranayama, sun salutations, asanas, savasana and a meditation on the water.
If you have any questions or interest, please do not hesitate to contact me.
Costs for Personal Training: 60 Minuten / 90 Minuten 75 bzw. 105 Euro includes rental fee for the premium Inflatable SUP Board and paddel.
Participants have to be very good swimmers as we train on open water lakes and canals. You have to be a fit, trained person and cardiac-wise totally healthy. I can't provide personal safety equipment such as swimming wests or neos for colder water temperatures.