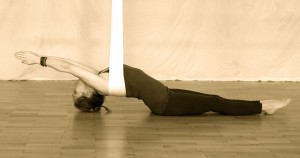 Aerial Yin Yoga is magic. Aerial Yin Yoga is Aerial Yoga that meets Yin Yoga, Deep Yoga, Restorative Yoga and Fascial Yoga. Join the combination of mat and hammock.
Uta Delbridge and I offer this new format for Aerial Yoga on our external website www.aerialyinyoga.de (German only).
if you need more information in English, please contact us. As we are both fluent in English, we also teach biligual.