Yoga in the air – yoga in a hammock. Breath in, breath out, let go. The aerial is a variation of traditional yoga. No matter if you are beginner or advanced yogi, aerial yoga is suitable for everyone. In US and Canada, Aerial Yoga is a fast growing yoga trend. Sometimes Aerial Yoga is also known as Anti Gravity Yoga, Air Yoga, Fly Yoga or Flying Yoga.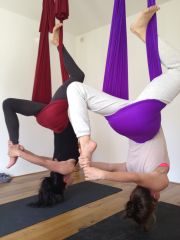 The hammock is your partner. Discover asanas in a new way. The fabric accompanies you while standing, sitting, laying and up-side-down through various yoga poses. Learn to let go while playing with gravity, get new sights and discover your body. You reach new dimensions as you have your space in the air. Neck and back are relieved, muscles are activated or can be relaxed more easily. Your flexibility and strength will be enhanced and intensified. Most participants reach new depth when they repeat the aerial asanas in classical style on their mat.
The nylon hammock is fixed in a trapeze at the ceiling and is individually adjusted to your height. You can position single body parts in the hammock or relax completely in the hammock. Most people love the upside-down asanas and dynamic movements. Your balance is improved by the hammock. With some trust and courage you will learn to let go and relax even deeper.
As a certified Dana Aerial Yoga Teacher I offer you workshops, classes and personal training in Aerial Yoga.
Upcoming Workshops and Classes
for ten to fifteen people: please have a look at the section Dates.
Please register for the workshops online here.
More news also on  www.facebook.com/aerialyogahamburg
Personal Training
(60 or 90 min) Aerial Yoga Class with Carolin Adler for 1-2 people, 60 Euro/ 90Euro – dates on request.