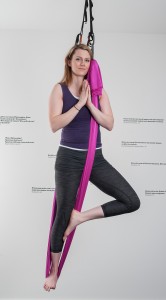 Can I do Aerial Yoga?
Aerial Yoga is for everyone – no matter if you haven't done Yoga before or if you are an advanced yogi. It is not necessary that you have done traditional yoga before starting with Aerial Yoga.
The benefits of Aerial Yoga are:
Yoga beginners: the aerial fabric supports you and helps you to get the right alignment in yoga from the start on
Advanced Yogis: the hammock will help you to get deeper in to the poses and ill intensify the stretches. The inversions and backbends will be supported by the hammock.
Returning Yogis: Aerial Yoga is a good re-entry into yoga after a time out. People with neck problems, for example, profit from the inversions in the hammock is there is no pressure on the upper spine.
Pregnant women should not attend a regular Aerial Yoga Class after the first trimester, as there are poses included in the regular sequences that put pressure onto the lower abdomen. Anyway, there are a lot of great poses which can be done with hammock especially during a pregnancy – if you are interested please contact me regard personal yoga classes or special workshops.
Here are some more information on that.
What do I have to consider in preparation for attending an Aerial Yoga Class?
Please consider that Yoga in a hammock requires a few more thoughts beforehands as yoga on the mat does.
Clothes: because of hygenic reasons and to protect the hammocks please wear clothes that cover your arm pits – so to speak of  t-shirts and longsleeves. I recommend relaxed or fitted sportswear that stretches a bit. Women: please consider that large cleavages do sometimes show more than you would want to show while you are hanging upside down.
Accessoires: Jewelry, watches or metal at your closes (i.e. jeans buttons, metal zippers) can get stuck in the material of the hammocks and cause holes. Please remove your jewelry before class.
Food: Please do not eat any bigger meals two hours before class. To be overly hungry is not an option either as you might get then easily dizzy in the inversion poses.
Yoga Mat: Please bring your own yoga mat (if you have one) into class. The gives you more control for your soles, palms or other parts in the asanas. Some students even prefer to do Savasana for Final Relaxation on the floor mat instead of staying in the hammock.
Guidance: As in traditional yoga please follow the instructions of your teacher carefully. Please go through the poses slowly and with control. As certified teachers we will guide you safely thorugh the poses, including the inversions.
How safe is the hammock material and the fixing?
The very same aerial silk is used by aerial acrobats and dancers in circus or shows. The material is syntethic Lycra/Nylon and stands some tons of weight. The slings and chains as well as the carabines used are all from the mountaineering/climbing section and stand as well high weight and pressure. The fixing in the class room as well in my personal training room are anchored into steel concrete ceilings by professionals. All fixing is tested and  supervised regularly.
Where does Aerial Yoga come from?
Aerial Yoga is a mixture of Aerial acrobatic, Aerial Dance and Yoga. Many Aerial athletes brought their own yoga experience in the workout in the hammock and developed something new from there. Considering this Aerial Yoga is not really anchored in a classical yoga tradition. The known Aerial Yoga Trainings are only open to experienced yoga teachers. Every Aerial Yoga Teacher therefore brings his own experience, trainings and traditional line into the Aerial Classes.  In Aerial Yoga are some more known teacher trainings of high quality such as AntiGravity Yoga  or Unnata Aerial Yoga.  I concluded my training as a certified Dana Aerial Yoga Teacher at the Dana Aerial Institut  at Dhanya Meggers. The training is in the tradition of Unnata Aerial Yoga and topped with a deepend traditional yoga aspects.